News on the ski area
Par aOffredi le mercredi 19 octobre 2011, 15:15 - Domaine skiable - Lien permanent
Will you be ready to meet the challenges and enjoy the unusual experiences that are waiting for you in this new family fun zone?
This winter you can have fun, not only in the timed slalom run and the boarder-cross, but also by meeting original musical challenges! You can also use the « winners' podium » for an unusual photo souvenir!

:
Les Menuires, in partnership with the French Ski Federation, has created a free video system on the zone 1 in the BK Park.

Choose between two 2 modules (a bump or a rail)
Identifie yourself at the terminal with his ski pass
An automatic video of your passage will be taken by several video machines
Visualise your jump immediately on a screen situated at the bottom of zone 1, near the hut.
If you like, you can enter your mobile telephone number with the large tactile buttons on the screen. You will then receive your free video by MMS with a suggestion of sharing it on Facebook, Twitter...

So, don't forget to do your most beautiful smile during your jump!


You want new sensations ?

You can have a great time sliding down this specially dedicated piste on two wheels learning how to brake, how to take the corners and enjoy these new cycling sensations over 8km of run !
Accessible via the "Roc des 3 Marches" gondola.

This is the new concept created by the resort of Les Menuires which means you will never have to ski by yourself again !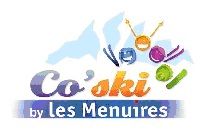 Thanks to the Co-skiing sticker you can rapidly identify the other people who, like yourself, are looking for someone to ski with for the day.
This precious sticker must be collected from the meeting point situated at the bottom of the Masse gondola, everyday at 10h (at the other times, you can collect the sticker from the Tourist Office)

And don't miss, either, the themed outings also organised by the resort and open to everyone.Or make use of the "ESF Co'skiing" to enjoy good value outings with a ski instructor who will help you discover the best spots in Les Menuires and Les 3 Vallées!

It allows you, amongst other, to access the new fun zone, situated near the bottom of the piste.

You can discover, for free, the « tubing » activity throughout the day and certain evenings during the French school holidays.

Free access for everyone

This winter you can rejoin the centre of the resort with bare legs, thanks to the La Croisette bucket lift which has undergone an unusual face lift!

Enough words … look at the photos!


Hope to see you this winter to discover this news !